Sizing
Instructions:
Below are the approximate sizes for each of our garments. Please note that all sizes vary by garment brand, and the numbers listed below are approximate. 1 in = 2.54 cm
For the chest measurement, measure at widest part of shirt from armpit to armpit (see diagram)
For the length measurement, measure from the top of the collar to the bottom of the shirt (see diagram)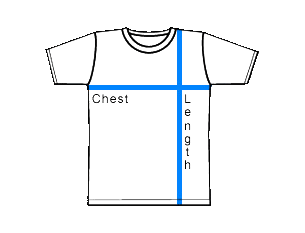 Standard 100% Cotton T-shirts (Fruit of the Loom, Gildan, Anvil, Alstyle)
American Apparel 100% Cotton T-shirts
Tultex / Next Level / District 100% Cotton T-shirts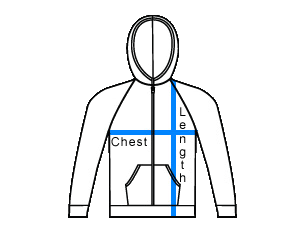 M65 Military Zip Hoooded Sweatshirts
Pullover Hooded Sweatshirts
Standard Zip-Hooded Sweatshirts
Jackets
Shoes
Need an Online Store?
Looking for a reliable full service merchandise company?
We develop, produce and distribute high-quality products with attention to current fashion trends, at competitive prices, while maintaining a hands on approach to managing all aspects of our clients merchandise needs
To learn more about our services or capabilities, please send an email to stores@shopbenchmark.com